Free UK Delivery
We Ship Worldwide
Simple Exchanges
Knowledgeable Staff
Secure Online Ordering
Returns within 30 days
About Blast Kiteboarding
PASSION NOT FASHION!
We live / breath kitesurfing 24/7, our lives are completely wrapped up in this wonderful world of kitesurfing, whether it's in some hot exotic location abroad or in the middle of the winter on our home beaches in the UK we will still be out there riding and testing the kit we sell.
We are real people, not a large anonymous corproate business pushing for volume sales. Every customer is important to us and as such we strive to go the extra mile to help you the client as best we can.
Blast Kiteboarding was born out of a simple idea - to help people fight against the growing cost of doing what we love to do. We are small company but we are keen kitesurfers so we understand what is important - quality gear and great prices.
Blast Kiteboarding is one of the most commited and experienced kite stores in the UK but with excellent couriers we have many stoked regular customers from all over Europe.
We offer a huge range of kitesurf kit from market leading manufacturers in kitesurfing including North / Ozone / Airush / PLKB etc
We will only sell equipment we truly believe in, kites and boards that we like to use ourselves, brands we can depend on for the best back up service available, be it a warranty issue or just to order a spare part.
We constantly monitor and compare prices daily to ensure you get the very best prices possible.
With this comes over 21 years experience in the Kite / Surf industry as well as the same number of years being uber keen kitesurfers ourselves. This means we have a heap load of contacts to get the best deals for you.
Treating customers, as we would like to be treated ourselves, is one of key beliefs and the foundation of our customer service. If you have any questions or suggestions, please feel free to contact us via emai [email protected]
Blast was formed to meet the demand for a Kitesurf School/Business/Shop/Store in the South Wales region but also as a leading national and European online retail store. Marc was one of the original kitesurfing pioneers in S.Wales UK and was one of the very first to use the main beaches in S.Wales that we all love to use now, such as Rest Bay and Aberavon.
The Blast Office
We are of course super keen kitesufers/surfers/wing surfers ourselves therfore we know how important it is to get your kit etc to you as quick as humanly possible. This is why we send most items out with next day delivery, especially the larger items like kites/boards/harness's etc
Huge selection of spares always in stock!
Why Choose Blast Kiteboarding?
BKSA Approved and Inspected Pro Kiteschool

Working Closely with Local Councils & BKSA

Highest Safety Standards Possible

Male & Female Fully Qualified Instructors

Teaching Kitesurfing since 2000

Advanced Coaching Lessons

All Equipment Supplied inc.Kites/Boards/Safety Vests/Wetsuits/Helmets etc

Fully Insured 7 Days a Week

Coaching to the RAF/Universities

The very latest equipment inc. Radio Helmets

4 x British Senior Wave Champion
Blast Kiteboarding was established in 2007 but Marc had previously run Rush Extreme Sports shop in Porthcawl since 2000 which was one of the eraliest kite stores in the UK and before that owned a surf shop called Gecko
Blast Kiteboarding works very closely with the BKSA (British Kitesports Association) as well as specialist coaching with the RAF etc
Marc has also reported for events such as the PKRA in Dakhla Morocco and writing articles for magazines such as Kitesurf, Kitepix etc
Marc & Sarah Rowley
About Marc Rowley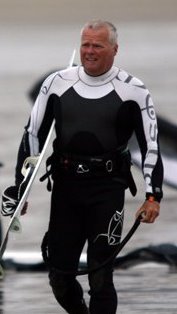 Marc is an extremely acomplished kitesurfer and also a very competetive rider and has travelled extensivly kiting many of the best areas in the world such as S.Africa, Brazil, Morocco, Greece, Hatteras USA, Canary Islands, Egypt, Portugal, Spain, France, Sardinia, Cape Verde, Caribbean.
Many of these have been group trips that Marc has organised, so keep an eye on this website for more trips to folllow!
Marc is 4 x BRITISH SENIOR WAVE CHAMPION this is his favoured side of kitesurfing in the surf although he has also competed in Freestyle and Race at British level.
As well as kitesurfing Marc is past British Wave Ski Champion and competed all over the the world surfing. Marc's first competetive sport was swimming, from the age of 8-18 heas training 5 hours a day. He is past Welsh record holder for 100m Breast stroke and again competed at internatiuonal level, he also swam the English Channel and also came 5th in the British National Long Distance Swimming championships. Marc is also a very keen mountain biker and competed very successfully in the extremely tough Polaris endurance events.
Marc has been kitesurfing/kiteboarding since 1999 and competed in many National events as well as organising events for both the BKSA as well as for the Kite Club Wales (Kitesurf Club) which he helped set up, he was also the BKSA Secretary for several years.
Marc is a Senior level qualified BKSA INSTRUCTOR
As well as instructing in Kitesurfing, Marc is also qualified in Snowboarding, waveski surfing and kayaking.
About Sarah
Sarah has been kitesurfing since 2005 and is a very competent kiter, she has competed in several UK conetests and recently came 3rd in the BKSA Wave Event! So she's pretty handy on a Surfboard too!
Sarah is obviously an acomplished rider and has travelled extensivly kiting many of the best areas in the world such as S.Africa, Brazil, USA, Morocco, Canary Islands, Egypt, Portugal etc. Many of these have been group trips that Sarah has organised, so keep an eye on this website for more trips to folllow!
Sarah is the organiser of all the Blast Kiteboarding trips abroard, including our regular annual Group Holidays to Portugal Hatteras USA and Brazil.
Her other interests include Snowboarding and Mountain Biking...she will kick your ass at both!
As well as all the above Sarah is also a full time Neonatal Nurse Practioner
Great article on Sarah Here : http://www.epickiteskiteboarding.com/news/rider-profile-sarah-rowley/