Just putting this out there, we are speaking with a long time friend in SA based in Langebaan and interested in running a trip there last week of February / First week of March
Langebaan is way lighter winds than those in Cape Town so much better suited for beginner / intermediate and also foiling.
We will also be able to run complete beginner lessons on this trip with our partners there.
So get in touch if interested!
We will post up more info as we get it including pricing / accomodation etc
WHY LANGEBAAN IS THE ULTIMATE KITESURFING DESTINATION

Nowhere can guarantee 100% wind reliability. Even in the blusteriest places on the planet, sometimes the conditions are still and calm. But while perfection might not exist, it's certainly possible to come close. And with 95% wind reliability in season, when it comes to kitesurfing, Langebaan is about as good as it gets. Just think about what 95% means in reality. It means that 19 out of every 20 days there is wind on the water so you can kitesurf. Book a 10-day kitesurfing break here and on average only one day of your stay will be calm. And by the time that comes around, you'll probably be ready for a well-earned break.
But it's not just the wind that makes kitesurfing in Langebaan so special!
Langebaan's location
Situated around 100km north of Cape Town, arriving in Langebaan from the UK is relatively straightforward. There are regular direct flights to Cape Town, and from there it is just over an hour by rental car, transfer. Usually to find winds that are this reliable involves a whole lot more effort. This quaint fishing village has been transformed in recent years into an idyllic holiday destination renowned for its fine food, wine and service. The lagoon where you kitesurf is also a protected area, forming part of the West Coast National Park. Migratory birds come here from as far away as Russia.
Head inland and you can spot mountain zebras and kudus among the carpets of wildflowers. This really is an unspoiled paradise and can be explored under your own steam on a bicycle or on foot. Or you can arrange for a longer tailor-made tour to visit the highlights of South Africa. If you can drag yourself away from the water, that is.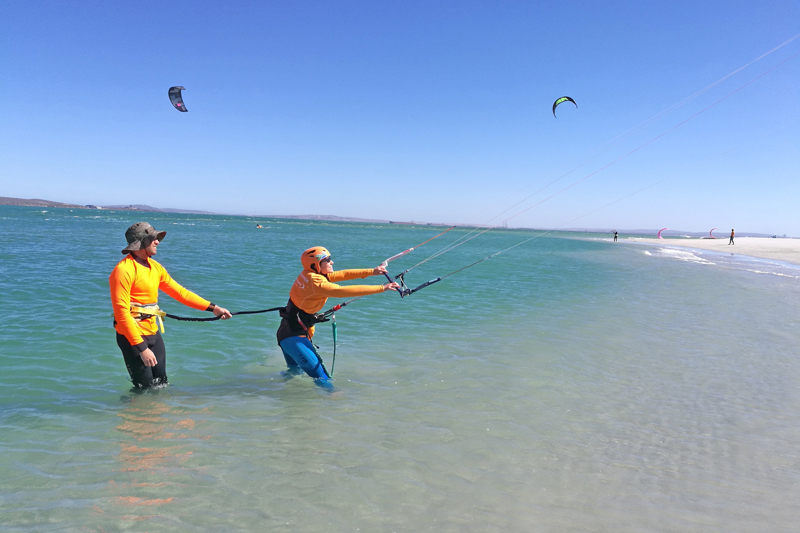 The weather in Langebaan
From November to April, it is summer in South Africa and Langebaan becomes one of the most wind-sure destinations on the planet. Which makes it an ideal place to learn to kitesurf or hone your skills. Temperatures are in the high 20s and a 3mm wetsuit or shorty is all you'll need. Riders can choose between the flat water of the lagoon and the bumpy, wavy areas which are all in close proximity to the town. With a safety boat on permanent stand you also never have to stress about safety when kiting here.
Value for money in South Africa
Perhaps the best part is that all of the above comes at great value for money. Onward travel, accommodation, food, and even the kitesurfing is affordable and great value for money. Flight times to Cape Town are just over 11 hours direct from the UK but there is little time difference so you don't have to spend a couple of days at the beginning of your stay getting used to the time zone, so no wasted cash there. Which means a week-long stay is enough to kitesurf Langebaan.
So if you want to kitesurf South Africa head to Langebaan. The combination of superb conditions, a stunning location and incredible value for money make kitesurf holidays here some of the best on the planet.